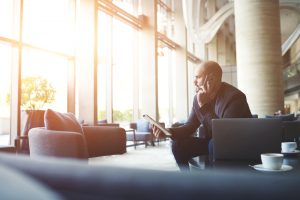 You applied for the position of Managing Director, and it's perfect! You're great at your job, and you've been offered a handsome salary to match your skills and abilities. But is it as perfect as it seems?
When you evaluate a job offer, look beyond the salary. Of course, it's a huge deciding factor, and a good salary is a good sign of an employer's intention. However, salary is just the tip of the iceberg. To measure a role for its true potential to deliver a rewarding career, you must look under the surface.
The right role for you will enhance your wellbeing, your happiness, your career progression and prosects, and even your mental and physical health.
Before signing the contract, pause. Take time to breathe. Question everything. Makes sure it's what you really want and deserve. There is always more to judge than salary alone.
Is the Company Right for You?
The company selected you as a good match for their culture. It's your responsibility to ensure the feeling is mutual.
It's key to ensure that the hiring company's values, vision, and purpose aligns with your own. If you feel there is a conflict here, there may be trouble ahead for your employer/employee relationship.
Consider the ways in which the company are doing things that marry well to your beliefs. These are things that you can build on in your role. If their behaviors run contradictory to your own, it is unlikely that you will feel comfortable acting as advocate for the business, and this is likely to undermine your performance and your growth.
Therefore, before you assess anything else, study the culture of your potential future workplace. Search out employee reviews. Interrogate their website and social media.
The salary you are being offered may be pitched to be an offer you can't refuse, but if your values aren't aligned your employment with them could be dissatisfactory and short-lived. Never allow your values and beliefs to be compromised by money.
Career Progression – How Will They Support You?
Don't feel rushed into taking the job as it is. Where will you go beyond the role you've been offered?
Figure out what your professional goals are. Will this company help to expose you to new opportunities and skills to reach those goals? Will you feel challenged to better yourself, knowing support and encouragement will be ever-present?
You must ensure that the company is as enthusiastic about your future as you are. If you don't, you'll risk a deep lack of challenge and the direction you wish to take may meet with resistance. This isn't good for you or your resume.
Will They Give You Autonomy?
You have demonstrated that you can lead from the front and lead successfully. You must ensure that you will be allowed to do so at your potential employer. While part of your job is likely to revolve around building a management team or helping to develop the existing one, your position requires autonomy. You'll need the authority to lead, inspire, innovate, and grow the company.
Your previous achievements and your potential are big reasons why you have received the offer. Shackled hands won't allow you to achieve the potential you have been hired to realize. You should expect close relationships with board members, open and honest discussion, and the support and resources you need to make your mark.
It is important that you feel trusted. Before you sign a contract, ensure that all the building blocks are place, and that you will be welcomed into a close-knit team.
Benefits and Perks
Look beyond the dated (yet essential, standardized) perks of a company car, health, and retirement benefits. A good work/life balance will enhance your ability to perform, your job enjoyment, and your career success. Consider perks such as:
Flexibility – especially if you have responsibilities outside of work
Incentive schemes and teambuilding activities
Mental wellbeing and support
Physical wellbeing perks (gym memberships, health concessions, etc.)
If these are included in the job offer, it says a lot for the company you'll be working for and how they view the importance of their employees' wellbeing.
Summing Up: Decision Time
Receiving an offer as a Managing Director of Staffing should give you a sense of pride. Your talent, business acumen, and management style has been recognized and rewarded. Before you sign, though, it is imperative that you consider the move, its implications, and the offer in detail.
The positive effect on your career could be huge if this is the right move for you. But a poor match will leave a bad taste in the mouth. It could irrevocably harm your career.
The points we have raised above will help you fully evaluate what may seem like an offer that is too good to refuse. It may be, but only if the opportunity fits in with your personal life, lays the foundations for attaining your professional goals, and aligns with your values and beliefs.
You've reached a pivotal point in your career. Don't leave your next step to chance. Contact EnabledForce and let's ensure that your career continues to flourish in a challenging and supportive environment that is made for your talents.
It's Time to Eclipse Your Competitors Summer is a tough time for staffing firms. You're challenged with a seasonal workforce decrease through vacation time, a...
Ready to start your search today?